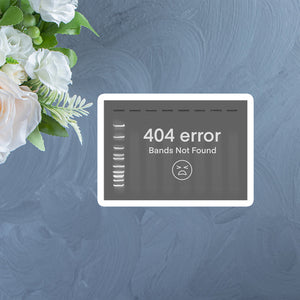 Roll over image to zoom in
Gel Electrophoresis Fail Stickers | Gift for Biologists, Biochemists, Geneticists
Molecular/cell/development biologists, biochemists, geneticists, how many times you see No PCR products on your electrophoresis gel, like a 404 error page?
Molecular biologists, cell biologists, development biologists, biochemists, and geneticists often use the polymerase chain reaction (PCR) to amplify specific DNA sequences. PCR is a powerful technique, but it can also be prone to errors. One common problem is that no PCR products can be seen on an electrophoresis gel, which can be frustrating and can lead to wasted time and resources.
There are many possible reasons why no PCR products might be visible on an electrophoresis gel, including:
Inadequate template DNA: If the starting DNA template is too dilute or of poor quality, the PCR may not produce enough product to be visible on the gel.
Improper PCR conditions: PCR requires specific conditions to work properly, including the right temperature, buffer, PCR cycles, extension and annealing times, and enzyme concentrations. If any of these are not optimized, the PCR may not produce enough product.
Inadequate primer design: The primers used in PCR must be designed to specifically bind to the desired target sequence. If the primers are not specific or are not designed correctly, PCR may not produce the expected product.
Inadequate electrophoresis conditions: The electrophoresis conditions, such as voltage and running buffer, can also affect the visibility of the PCR product on the gel.
In any case, if no PCR product is obtained, it is important to troubleshoot the reaction by checking the quality of the reagents and the PCR conditions. It's important to perform a positive and negative control at the same time to help you troubleshoot. 
This sticker is printed on durable, high opacity adhesive vinyl, with beautiful glossy finish. The vinyl protects the sticker from scratches. Don't forget to clean the surface before applying the sticker.

• High opacity film - not see through
• Super durable vinyl, perfect for indoor use
• A perfect addition to any water bottle, journal, laptop, or wherever you like
• Size: 3'' x 3''